Please take the time to read this article... it is long, however, you will be glad you did!
ALL CITIZENKAT KITTENS ARE SPECIAL AND DIFFERENT THAN MOST THE REST!!! WE PRIDE OURSELVES IN GOING ABOVE AND BEYOND FOR OUR CATS AND FUTURE PET ADOPTERS! ALL KITTENS ARE RAISED IN AN EXTREMELY SOCIAL ENVIRONMENT - USUALLY IN MY BEDROOM. THEY ARE VACCINATED, MICROCHIPPED, COME WITH WRITTEN CONTRACT, SPAYED/NEUTERED PRIOR TO PLACEMENT AND COME FROM REGIONAL WINNING, SUPREME GRAND CHAMPION LINES.
ADOPTION PROCESS: All kittens are carefully placed into loving, responsible homes. If you are interested in adopting a kitten or cat, please email me and then I will set up a time to have a phone conversation with you. I feel it is best that we get to know each other before I place a cat/kitten in a home. We prefer to place locally, but we will consider great homes further away. We do encourage you to be on our waiting list as we have few litters a year. If there is a serious interest or a deposit is accepted, then we can arrange for a home visit.
PRICE: Citizenkat pet Sphynx kittens are $1550. (The kitten will be vaccinated, microchipped and spayed/neutered) We do not charge according to color or eye color. We do not offer discounts or bargains unless we have a special needs cat or a retired breeder.
DEPOSIT INFO: A non-refundable deposit of $450 is required to hold the cat. Deposits must be received within 5 business days after decision. This deposit shows a serious interest in the kitten and I am also then required not to place the cat with anyone else and I send potential pet buyers elsewhere for their kittens.
BUT THERE ARE OTHER PLACES THAT OFFER KITTENS FOR LESS! WHY THE PRICE? Citizenkat is different than most! While this may seem like a lot of money... it is worth it. And usually, you get what you pay for.
| | |
| --- | --- |
| | From our bed to yours!!!!! Citizenkat kittens are raised with us in our bedroom - they are well socialized and trained to be great pets. They learn how to use the scratching post, my friends come over once a week to see them so they get used to strangers. I vacuum once a day so they get used to loud noises. They are taken for car rides to ensure they learn how to travel ok. The kittens have tons of human contact and I raise 1-2 litter at a time so they get all the attention they need and deserve. These babies will be the new loves of your life! My kittens are super affectionate, will want to be around you all the time and most will be at the door greeting strangers. |
| | As all kittens should be, they are microchipped, spayed/neutered, and vaccinated. |
| | We are tested FIV and Feline Leukemia free, our adults are periodically PCR tested for infectious diseases to ensure we have a healthy disease-free cattery. |
| | Written Contract - Citizenkat kittens come with a 3 year genetic guarantee and are seen by the vet several times before you adopt your selected kitten. We will replace your kitten if FIP, many breeders do not. Ask before you purchase your kitten. |
| | Show cats-The parents of your kitten is from Supreme Grand Champion, Grand Champion, Regional Winning Cats. Even though your kitten was not selected to be in a show/breeding program, our kittens are still beautiful and even most the ones that go as pets could be shown. I show because we care a great deal about ensuring our cats are the best in every aspect. |
| | I am a TICA Sphynx Breed Section member and a voting breed member of CCA (Canadian Cat Association) I've been showing/breeding Sphynx for 8 years (since 2003). |
| | All breeders used here have their hearts scanned by a board certified cardiologist yearly. Scans for a board certified cardiologist usually cost about $500 per cat. |
| | All breeders are DNA tested to ensure they are not carrying for certain diseases. (Color, disease profiles). |
| | I keep less than 8 adult cats at any given time so they get the love and attention they deserve. My males are altered by the time they are 3 so they get to live the life of a loved pet and while here, they run around each evening supervised. |
| | When I place my kittens, I want to hear about them as often as you like to tell me. I always want contact and I am willing to offer any assistance with anything you may need with your cat. So, you have my support always! This is priceless. |
| | I try to lead by example. I only work with other breeders who have similar ethics and guidelines to mine. This means I will not purchase a cat from a cattery that has poor conditions or breeding practices. I do not want to support or contribute to any inhumane treatment of animals. I hope you chose to do the same! I also do not support any exploitation where Sphynx are illegally outcrosses to other breeds to create new breeds. Neither CFA or TICA support them and neither do I. The Elves, Dwelves and Bambinos are not recognized by any association, so any claims that they are - they are false. |
*You cannot assume you will get this somewhere else. Some catteries have every color, lots of litters and cheap kittens. I have heard of breeders with over 30 to 50 cats. Some of them are smart and just have 4-5 cats on their website and really have a lot more. Check out any breeder well! Go to their house and see. I have no idea how those cats can possibly be socialized and loved! If you purchasing from them, it is helping keep a kitten mill sustained. Plus, it is not likely your kitten will have been socialized properly and may not be healthy. If I am not local enough for you, or you cannot wait to get a kitten, or I do not have kittens available - I will gladly refer you to someone reputable who you will get a fantastic kitten from. You WILL BE GLAD YOU DID!
I HAVE DECIDED TO BUY FROM A BREEDER THAT SCANS REGULARLY FOR HCM:
This is great news! First, you must check and see if the breeder uses board certified cardiologists. There are a few breeders that scan just at their (non board certified) vet's office and will NOT tell you unless you ask. My regular vet would not even offer and/or refuse to scan a cat because he acknowledges that he is not skilled enough to do it. It is not ethical for a non-board certified vet to scan a cat for HCM as the results may be incorrect either way. I have heard of (non-board certified aka regular) vets diagnosing cats with HCM, then when taken to the cardiologist they do not have HCM and vice versa) The board certified cardiologist go to school for an extra 3 years and there is a VERY good reason for this. The heart is very complex.
Please read my article here to learn more: Citizenkat HCM Article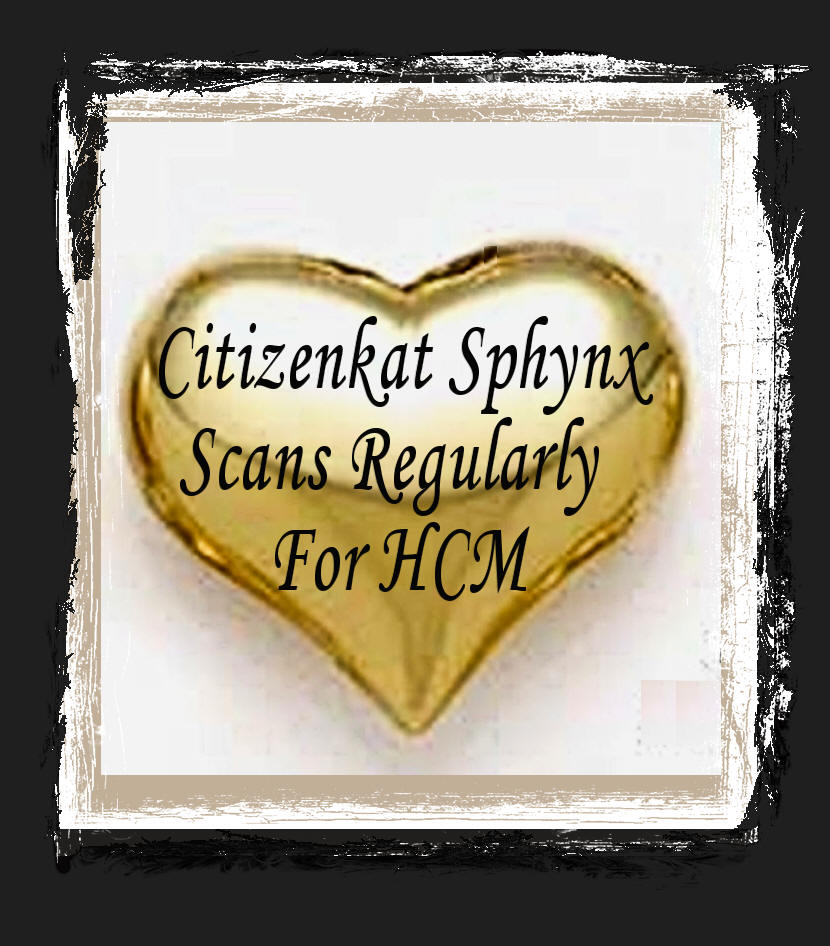 WHEN: Pet kittens are placed in their new homes at 12-15 weeks. A lot of people know that puppies can be placed ethically at 8 weeks. This is not true of cats. Cats should not be placed until they are at least 12 weeks old as they are not developed enough. Placement varies depending on development which varies by litter and even by individual kittens in the litter.
I WANT TO BREED! Imagine you are going off to college - this is the amount of information you will need to learn to breed responsibly and ethically. We will be happy to assist you, but all new breeders working with us must show an altered Sphynx first before we will consider placing a whole cat. Breeding is a time consuming and requires a ton of learning and relationships need to be developed. We firmly believe all responsible/ethical breeders have a responsibility to show a minimum of 4 times a year. It is best to get an alter to ensure the Sphynx breed is for you and you enjoy showing! This way you get to meet other breeders, learn about genetics, pedigrees and the standards and eventually be able to select the best cat for your program. If you do get a show alter from us, and it works out mutually, we will place another kitten with you for the pet cost, not the breeder cost. You might think it is time wasted, but going into something more prepared and slowly is the best way and is actually time saved!
Please see "Finding a Reputable Breeder" on my website and also "Sphynx FAQs"
PLEASE NOTE: The ONLY hairless cats recognized by TICA are Sphynx and Peterbalds. Any other type of hairless cat is not a recognized breed.
Updated: 05/16/2013
All KITTENS ARE SPAYED/NEUTERED prior to placement.
At the moment, no kittens are available. Please contact me for details about future litters and to be placed on a waiting list or for referrals to others that may have a kitten available. There is a litter due late June 2013.
Currently, we have a waiting list, so if you want a kitten, please contact us to be added. We do keep a waiting list and inform interested, approved parties when kittens arrive.
PLEASE complete the questionnaire below and send to citizenkat@rocketmail.com
Retired Breeders Available / Older Kittens
Occasionally retired breeders will be available to approved homes. As a breeder we cannot keep all our cats and they need to find that special forever home. Retired breeders make wonderful pets still as they are still as playful as the kittens! Retired breeders are usually about half of what a pet kitten would cost. All retired breeders are Spayed/Neutered already.
Please email me for information on retirees. Usually my retirees have homes months before they are actually placed.
At the moment, the three cats I plan to retire this year have prospective homes. I do not think we will have any retired breeders available until 2014.
-------------------------------------------------------------------------------------------
Please complete application below and contact me for further details
IMPORTANT: We care about the health and future of our cats, so there is a requirement that these retired adults be available for HCM scanning in the future at least once a year. The scan is a simple, 10 minute exam on an ultrasound machine that is non-invasive and will be of no cost to you.
------------------------------------------------------------------------------------------------------------------------------
Please email me at citizenkat@rocketmail.com to inquire about kittens/cats.
Interested in cat/kitten? Please fill out this quick questionnaire:
This questionnaire is designed to help get a base knowledge of what your interests are and your household so I can help you select the best possible match for your home.
First Name:
Last Name:
Phone Number:
Email Address:
City, State you reside in:
Please select the letter that matches your age range (A) under 18 (B) 18-24 (C) 25-30 (D) 31-40 (E) Over 40
Preferred Age (kitten, young adult, retired breeder):
Preferred Sex: (Please note! Neutered males do not usually spray!)
Color Preferences: (While it is nice to get the color you want, it is better to have several options of color that you like.)
Personality Preferences: (Are you ready for an active, in-your face cat that demands a lot of attention and wants to be with you all the time?)
Do you have children in the home? If so, what are their ages and sex:
Have you or anyone in your house ever had allergies? If so what kind?: (while Sphynx can be tolerated by many with allergies, it does not work for everyone and a home visit is a good way to see)
Time Expect to Adopt Sphynx:
Why are you interested in adopting a Sphynx?
Do you have previous experience with cats?
Have you had any prior experience with the Sphynx, and if so, what kind?
Do you have any other pets? If so, what kind and breed? How long? What are their personalities like?
Do you believe you have the time required to acclimate your pet into your home? Each cat varies in how long it takes to acclimate, some take about a week but some can take up to 6 weeks.
Do you know that a good amount of Sphynx have a bit of fuzz on their ears and tails?
Are you willing to do regular weekly 20 minute maintenance to bathe, clip nails and clean ears?
Are you willing to remain in contact with the breeder about the health and well-being of the cat?
Have you ever surrendered a pet to a shelter? If so, why?
If you have cats, do you let them outside and under what circumstances?
If you have/had cats, are they declawed?
Do you plan to declaw your cats/kitten?
Are you allowed to have cats where you live? Are there any requirements if you rent?
Are you willing to take your cat to the vet yearly for a health exam and do periodic dental cleanings?
What are you planning on feeding your kitten/cat?
Copyright (©) Citizenkat Sphynx, 2012, 2013.
No parts of this website may be reproduced without permission